Riese aquatic weed removal
Do you live on a lake or pond with an excess amount of seaweed, algae, or invasive aquatic plants? Riese aquatics is here to help. We specialize in aquatic plant removal. We remove plants by the root by using Diver Assisted Suction Harvesting (DASH) allowing for invasive plant control without the use of chemicals. This seaweed removal technique is ranked number one for aquatic invasive plant management while improving the ecosystem's health.

Check out our before and after pictures below!
We remove nuisance vegetation like these lily pads from boating areas. Our service manually removes the plants by the root, ensuring the longest lasting treatment!
Before and after photos of our shoreline cleaning, once we have removed the submergent vegetation from your waterfront, we will clean the debris from your shoreline!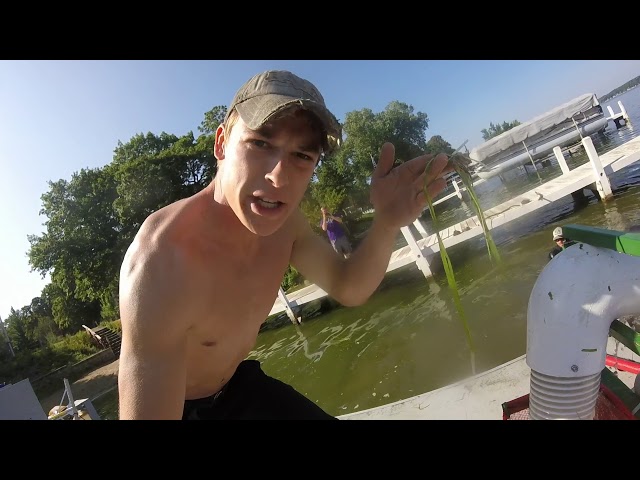 Riese Aquatics DASH Video
This is a short video demonstrating how our DASH service removes aquatic vegetation in Wisconsin.
Our DASH service utilizes a trained diver to manually remove and suck up targeted plant species, which are then deposited into bio-degradable bags on the pontoon deck. The pontoon and all of our equipment is sterilized before entering a new waterbody, to ensure proper handling of invasive species.
Provide our customers with the best quality DASH service in Southern Wisconsin, while ensuring proper knowledge and handling of aquatic invasive species.
Give us a call, we'd love to meet you and discuss your goals!
Honest & Reliable Service
With our custom built harvesting boat, we will provide you with the hardest working DASH service in Southern WI.
UW-Stevens Point Water Resources Graduate
We are eager to improve the health and appearance of your waters!

W5704 Amos Rd.
Elkhorn, WI
53121
Mon-Fri: 9:00am - 6:00pm
Sat: 9:00am - 1:00 pm
Sun: Closed
/